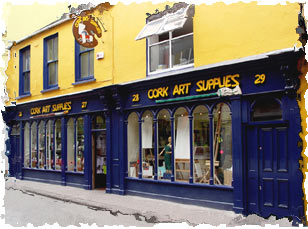 Ireland's first online Art & Craft webstore. Cork Art Supplies is a family run business and was founded in 1986 by Lia and Barry Walsh. In business for over 30 years Cork Art Supplies has remained at the forefront of Artists supplies & materials in Ireland. Opening hours are Monday to Saturday, 9:30am - 5.30pm.

Our online store allows customers to shop from anywhere at anytime. We aim to have all orders placed online, shipped same day provided all items are instock & the order is placed before 1pm.
Customer Quotes
I find this web site & this company to be the best in Europe.Details are excellent & so easy to follow then the girls who call or follow up are 110% customer driven & so so helpful.
-Maureen

Thank you very much. I have never received such fantastic customer service anywhere before! I will certainly be shopping with you again.

-Rachel, Cork

Yesterday i ordered some items from you, thinking I would have them in a few days, I cant believe that An Post delivered them this morning. What a great service you give,it would be mental of me going to Galway by car to get these items, 1 they would be more expensive, 2 my day would be gone, 3 the cost would be double, if everyone in this country could give a service like this we would have a great Country. Keep it up.

Well done.

-Ronnie, West of Ireland

Thanks for getting all my bits and pieces sent to me in time for christmas, they will make someone very happy on the big day! Just to let you all know that I really appreciate the excellent service and customer care I have received from Cork Art. I look forward to my next order with you. I wish you all a very merry christmas and a successful new year ahead!

-Tanya, Meath

I'm speechless - the parcel arrived this morning! Thank you so much. I really thought it would take much longer. Take care,

-Heather, Dublin

Just wanted to let you know that my order arrived yesterday morning and I am delighted with it. Thank you so much for a great service. Your shop on line is a real find. I will be letting my scrapbooking class know your details tonight. Thanks again for your service. I look forward to shopping with you again.

-Maresa, Co. Dublin
Thank you very much for all the messages. I will be looking forward to receiving the package. I am delighted with the fast and efficient service that your company is providing. Thanks again,

-Karla, Wexford
These arrived last night in perfect condition and very well packed. Many thanks,

-Sharon, Co.Dublin
Just wanted to say congratulations on a fast and efficient service. Received my Big Shot and accessories this morning less than 24 hours after I ordered them. Many thanks,

-Isobel, Co.Dublin
I have to congratulate you on your fantastic webstore! I have ordered craft products from other sites in Dublin, thinking I was getting a great deal, only to find an extra 21% VAT added to the overall price at the checkout. Your site is full of great offers (incl. VAT) and I know exactly what I'm paying. -I'll be recommending you to all my friends! Best Wishes,

-Patricia O' Shea, Co.Dublin
My order that I placed yesterday arrived this morning. I just want to say a big thank you for the efficient and speedy delivery of my order. One extremely satsified customer here.

- Vicky Lane, Co. Cork
This is my first order and it wont be my last. Can I just say well done on your online service it is very hard to find good craft suppliers on line in Ireland. It's a great website with a great range of products. Well done,

- Angela, Co. Laois
Just confirming that the studio beech easel arrived today at 11.30 a.m. Full marks for efficiency on your part! I will definitely use Cork Art Shop again, despite being a Dubliner! Regards.

- Patrick, Co. Dublin
I've recieved my order in pristine condition first thing this morning. I have to praise you on your customer service and rapid turnover time. I'll be using Cork Art Supplies from now on and will pass your website onto my colleges.
Keep up the good work!

- Andy Fleming, Dublin.
Received the order today - many thanks for great service.

- Anonymous, West Cork
Thank you very much for the speed of delivery. I will be recommending your service.





- Clare, East Cork